Morilee's Dazzling White Gowns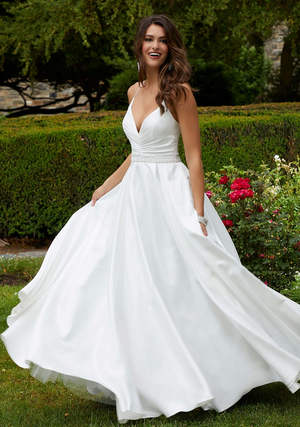 Morilee Prom's 2020 collection is full of dreamy styles! From fun prints, to sleek mermaids, and everything in between, you will definitely find something beautiful from Morilee! With it being mid-May, we wanted to talk about white gowns that would be perfect for upcoming events like Debutante Balls, Teenboard, all those special events like that! So, we are gonna dive in and show you some gorgeous styles in white! 
    Morilee's style 45094 is a classic satin ballgown that is perfect for debutante events! It is simple and classy, and will make you look and feel your best! It features a sweetheart neckline, pleated details across the front and a thick band to draw in the waistline. The skirt is simple and flares out, while the satin fabric gives it a gorgeous shine! This gown is complete with pockets - everyone's favorite detail! If you wanted to add some sparkle to this look, you can always add a beaded belt, some sparkly jewelry and shimmery shoes! 
    Similar to the previous style is Morilee's 45007. This stunning ivory look is perfect for special events like Teenboard, military balls, or weddings! It features a v-neckline, gathering along the bodice, and a gorgeous skirt. This ballgown is picture perfect and the skirt is just what you need for the perfect twirling pic! Add in some silver earrings and a simple bracelet and you will be ready to go! 
    If you want to go for something a little more unique, you could go for a look like Morilee's 45065. This gown is fitted and entirely adorned with lace. It has an off-the-shoulder neckline, sleek bodice with subtle exposed boning, and a fitted skirt. This look is so classy and will be unique at your event! It is ivory lace, with a little gold underneath for some sparkle! Morilee has tons of other styles that will be perfection for your upcoming events! Be sure to check out their catalog on our website or come visit us in-store!