Beaded Beauties from Aleta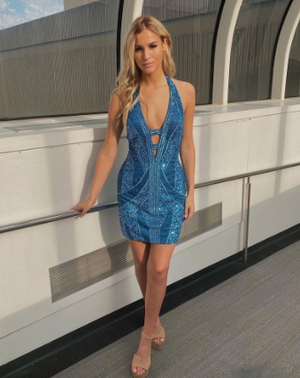 Hey girl, hey! It's a new week which means we are coming at you with fresh, new formal styles that you just have to see! Homecoming season is in full swing and the fabulous hoco looks are plentiful. Aleta's homecoming collection is beaded to perfection, as you probably could have guessed! We are swooning over so many of their styles right now, but we narrowed it down to a few top favs to show you girls! 
This season has surely been a colorful one and we are so glad to see pops of color and patterns coming back into the formal wear world. Aleta has crafted some of the most unique homecoming looks that we have seen to date. Style 704 has all the trends going on when it comes to style and fit, but the color pattern is just as fabulous. It features a one shoulder neckline with one strap, ruching details across the bodice, a side cutout and allllll the beadwork. This shimmering number actually has a tie-dye color pattern to it, and we could not love it more! How unique and fun is that?! 
Aleta's style 479 is a real head-turning number! This cocktail length look features a plunging neckline with strappy details, a halter neck, sleek fit and intricate beadwork pattern. The arrangement of beading adds to the overall fit and really accentuates your figure! There are several color options to choose from, but our vote is for the gorgeous sapphire blue shade. It is just fabulous!
Last but not least, is Aleta's style 709. This homecoming look will be sparkling so bright under those Friday night lights! This short cutie has a scoop neckline, long sleeves, side cutouts and a gorgeous open back. The look is adorned with sequins and beadwork throughout. We are loving the nude multi color option, it brings in a rainbow of stunning pastels to really set the look apart from all of the rest. However, it also comes in several other color options, so you have lots of choices!