Transitional Nail Inspiration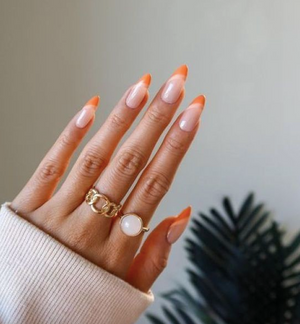 The leaves are slowly starting to change and the morning air is getting chillier by the day! Have you started doing all of the fall things yet? September can be a weird transitional month because around here, it's still pretty warm and sunny. However, there are several things you can do to get into the festive fall spirit, slowly! Starting with one of our favorite pastimes, getting our nails done! 
We rounded up some of our favorite nail styles for a transitional look for this new season. First is this nude base, with subtle floral designs. For the cooler months, we usually prefer nails that won't clash with our outfits, so we love that this brings in several fall hues without being overpowering. The mix of nude, mustard, rust and creams is just so pretty and can give off calm fall vibes before we get into full-on Halloween nails! 
Whether you are gearing up for game day on Rocky Top or just wanting to go with a brighter Autumn color, these orange and white nails are perfect for this time of year! The french manicure look is classic and timeless. Adding in orange and white/cream elements takes it to a whole new level! If you are not feeling the orange, you can always substitute it out with another hue of your choosing. It would also look so good with a darker tone! 
Green is such a huge trend right now with fashion, so we could not let the opportunity pass without showing you some fabulous green nails. We love that these are solid, but mix in several different nail styles into one look. This look features solids, french styles, and abstract swirls. This is a super fun way to spice up your typical nail routine if you are a solid girl! We hope you found some inspo to take with you next time you visit the salon!