Best Dressed Celebs from the Met Gala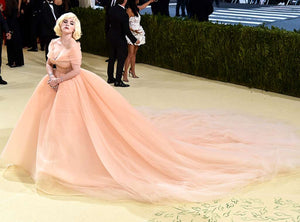 Oh, the glamour, the beauty, the style. What's the one night any fashion-lover waits 365 days for? The Met Gala, of course! The one night each year that seems to be the closest to a royal ball for Americans. So, why don't we take a look at this year's most glamorous looks.
Let's start out with the always fabulous Kendall Jenner. Kendall absolutely stunned the crowd this year in her gorgeous version of Audrey Hepburn's classic look from My Fair Lady. The Givenchy dress channeled all the Golden Era of Hollywood vibes. This dress is a beautiful sheer dress also has crystal embellishments that absolutely complete the look.
Next is the beautiful Billie Eilish. Okay, let's just talk about this look. WE ARE IN LOVE WITH THIS LOOK! Billie wore an Oscar de la Renta design that was absolutely fit for a princess. The nude ball gown turned heads with the long train and totally regal look. Billie definitely got this one right.
The final look is Hailey Bieber's simplistic look. This look is another one that is absolutely to die for. The Saint Laurent dress played off the Golden Era, as well, with the simple black strapless dress. The dress also featured a plunging scallop cut neckline that was lined with crystals. Now, that's what we call fashion!