Christmas Cookie Inspiration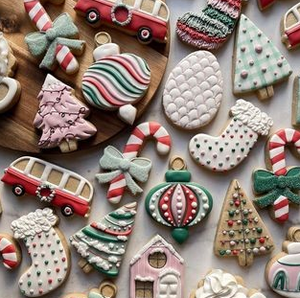 'Tis the season! December is well on its way and the holidays are right around the corner. While there are many traditions and activities that we like to do this time of year, we are here to encourage you to plan a time to make Christmas cookies! This is a holiday activity that we can never pass up! 
Christmas cookies do not just have to be sugar cookies, there are SO many wonderful recipes out there that are festive and tasty! These are called Christmas Monster Cookies and we cannot wait to try out the recipe. They have oats, pretzels, chocolate chips and m&ms in them - what could be better?! They give the holiday vibes, while also bringing major flavor to your life!! 
Classic sugar cookies are always a go-to for holiday celebrations. There are so many different things you can do with these yummy sugar cookies. Grab your favorite festive cookie cutters and make an afternoon of cookie baking and decorating! You can use an array of icings, homemade or store-bought, candies, sprinkles, etc. This is a super fun tradition you can start with your best friends or your family members!  
Another recipe to try while you are doing your holiday baking may be these white chocolate candy cane cookies. These have several holiday inspired ingredients like peppermint extract, white chocolate chips, and candy canes. These cookies will give you a taste of holiday cheer while keeping you warm and cozy!