Pretty Pastels from Colors Dress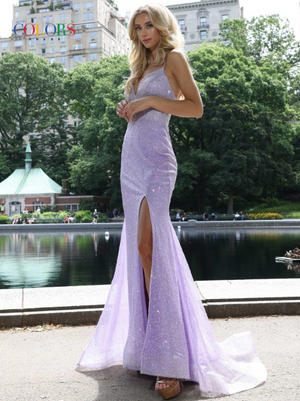 Around here, we are firm believers that you can wear pastels all year long! There is always a pastel color that will work for any season and any special occasion. Colors Dress has a fabulous collection of styles that proves just that. Whether it is a dreamy winter blue or a timeless blush pink, there is always a pastel gown that will make you look and feel your best! 
Light blue is one of our favorite pastel shades. Colors Dress style 2971 is a prime example of how stunning this blue shade can be. This look has a strapless neckline with a sleek bodice that is fully adorned with high end beadwork. This pairs so well with the full ball gown skirt. This skirt is not like every other ball gown - it has several layers and is topped off with a stunning oversized bow on the hip/back. We are obsessed with this unique number! 
Colors Dress style 2951 is as pretty as they come. It features a v-neckline and thin shoulder straps. The fit is sleek and fitted through the hips, and then flows out into a mermaid-like skirt at the bottom. The skirt has a stunning silhouette, with a high slit on the left leg and a horsehair hem along the bottom. We love the lilac color option in this style, but it also comes in several other hues. 
Blush pink is a color that can easily work in any season. For us, pink never goes out of style! Colors Dress style 2929 features a sweetheart neckline with thin shoulder straps, a sleek fitting bodice and a full skirt. The entire dress is made of tulle and is adorned with shimmering sequins for an iridescent look. The mix of light pink and sparkles really takes this style to a whole new level!