Colors Dress and Iridescent Embellishments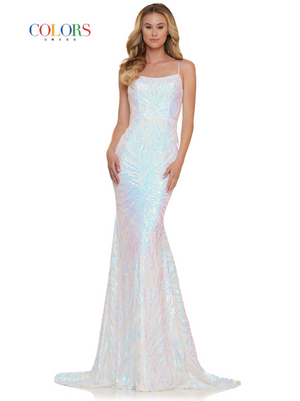 Around here, we are all for stepping outside of the box and wearing a fabulous, trend-setting gown! Colors Dress has several of these in their current collection, each one with its own personality and flare! While it may be the beginning of fall, we wanted to chat about a unique color scheme that may not be at the top of your radar - white with iridescent beading! The beading picks up colors around you and brings in a lot of tones of blue and pinks to really make your look special! 
So, what does this color scheme look like? Well, allow us to give you the full rundown! Let's start with Colors Dress style 2994. This look has a little bit of everything going on and we could not love it more! With an asymmetrical neckline, ruching details, feather embellishments, and a super dramatic skirt - this gown will be turning heads from all angles! The skirt is one of our favorite parts of this look, with a high side slit and draping details for added drama! This gown can work for any event you have coming up! 
Continuing on, let's chat about Colors Dress style 2743. This gown is a Formal Approach fav!! It features a scoop neckline, structured bodice, and subtle trumpet skirt. This look also has a base of white, with iridescent sequins throughout. The embellishments create a captivating pattern that almost reminds us of zebra stripes. Thin spaghetti straps make for a comfortable fit, while also creating a fabulous strappy, but open back. 
Another gorgeous white gown with fabulous embellishments is Colors Dress style 2683. This strapless look features a straight neckline, structured bodice, and slit over the left leg. Iridescent sequins adorn the gown starting at the neckline, and covering the entire look. The white iridescent elements fade into a gold hue as we reach the floor. If you are looking for a dress to wow the crowd - this is definitely it!