Fun & Funky Heels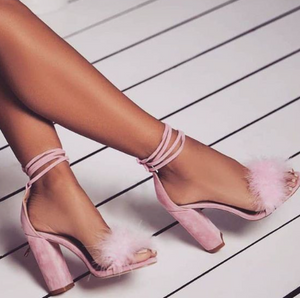 If you had to name your favorite type of accessory, what would it be? Well, we would definitely have to go with shoes! It's always a debate whether or not shoes count as an accessory, but with our topic today, you'll see why we are opting for 'accessory' - these funky, super fun heels are game changers for any outfit! 
First things first - what kind of heels are trending right now? Well, we're so glad you asked! Chunky, colorful heels are all the rage as we transition from summer to fall. We are loving these adorable leather block heels. They will definitely make a statement with your outfit and will give you a little confidence boost! Not to mention, these are the cutest colors ever and will add the cutest pop to your look! 
One of the biggest trends of 2022 is the reemergence of feathers as an embellishment! We have seen feathers everywhere this year. From the Red Carpet to the pageant stage and everywhere in between. Say you don't find a dress that you love with feather details, you can always add a spicy element with your choice of shoes! These pink suede cuties are fabulous as can be! The strappy ankle details are another element that we love about these!! 
The ultimate platforms have made their way back into the fashion world and we think they are just so funky and fun! The closed towed satin platforms are giving us all of the Bratz Doll vibes and we are here for it! These cuties are super tall, but have a thick block heel and platform for extra padding and comfort. Shoes like these are the perfect ways to add a little color and high fashion to your outfit or formal look!