Dazzling Looks by Morilee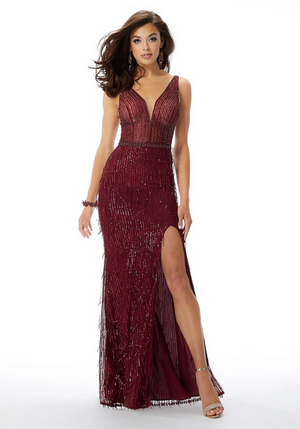 Aw, the dazzling sparkle of glorious beading. Hello, darling people! We know all of you love a magnificently beaded dress that sparkles in the moonlight! In all honesty, everyone wants to have a glamorous evening gown and Morilee is always stunning us with these dresses. Styles such as 46008, 45021, and 43027 are just some of the styles that give us that magical feeling.
    Style number 46008 is definitely an amazing regal dress. This beauty gives us an alluring fitted dress that any movie star would wear. The look includes a plunging v-neckline and a high slit. It also has an open back. It's detailed with beaded fringe that adds a little bit of fun to this fabulous dress.
    Our next style is 45021. This a-line is the perfect depiction of a fairy tale princess and is wonderful to wear to a ball. The sparkling glitter tulle is a terrific detail to this dress. Similar to 46008, this dress has a deep v-neck that is outlined by burgundy beading. It also has a natural waistline that compliments any girl!
    Style 43027 is our final shimmering charmer! This whimsical a-line has fantastic metallic embroidery that could reflect the lights of any event. To add to the magical look, this tulle gown has a slit added to it along with a lacy back for the perfect look. For that extra glimmer, this dress has beading within the lace.