Hey, hey, October!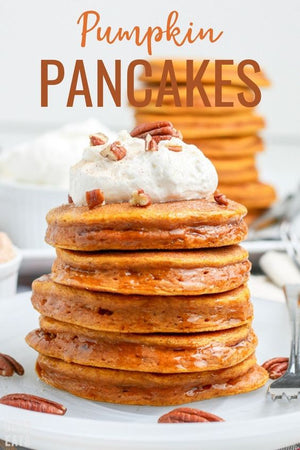 We sure have missed you! We were already in the Fall spirit, but even more so now that we are even deeper into this dreamy time of year! With that being said, we wanted to share a few Fall-inspired treats and recipes that we have found that will even have your taste buds feeling like autumn! 
This time of year brings all pumpkin, everything! From coffee, to desserts to soups, you can make every meal and treat you eat, have a little dash of Fall! Let's chat about breakfast first - our top pick is pumpkin pancakes! These are super easy to DIY at home, and you will be blown away by how tasty they are! Drizzle your favorite syrup on top and you will have a delightful Fall breakfast! 
If you haven't already, make sure you get your pumpkin spice latte fix this month! Whether you are a regular at Starbucks or you like, be your own barista at home, you can easily enjoy a delicious pumpkin spice latte! You can make it frozen, add whip cream to the top or just keep it simple -- the possibilities are endless! If you are hitting up the Starbucks drive thru, try a Pumpkin Cream Cold Brew to change it up a bit - you won't regret it! 
Are you in the mood for dessert?!  Well, we've got you covered! Try your hand at baking some pumpkin cheesecake bars. With a layer of gooey crust, cheesecake cream, pumpkin on top, and a little whipped cream - this dessert is sure to become your new favorite! These are also great to make and then take to a holiday gathering!