Delicious Chocolate Treats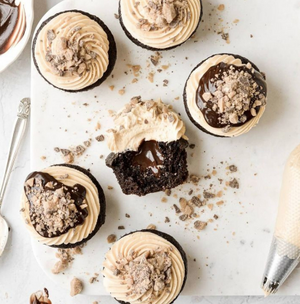 It's finally Friday, y'all! Guess what hashtag holiday was this week?! Chocolate Cupcake Day!! Did you know that was a holiday?! Well, in the spirit of this fun day and this cozy October season, we rounded up some delicious chocolate treats. These treats are perfect for cozying up by the fire, treating yourself on a random Tuesday, or making for your Halloween festivities. 
It's officially chilly out, which means we are ready to cozy up in our favorite sweater by the fire and drink something warm. Whether you are a coffee gal or not, you can enjoy some delicious hot chocolate to warm you up. This tasty drink can be made even better with toppings! Marshmallows are a must, but you can also add some whipped cream, chocolate syrup or caramel, there are soooo many options! 
Obviously since it was chocolate cupcake day on Tuesday, we have to chat about chocolate cupcakes! There is so much you can do to spruce up a classic chocolate cupcake. We are always up for chocolate chip cookie dough, or for adding candy to spice things up. Crushed reese's cups, rolos, butterfingers, and oreos are all great options to toss on top of your chocolate cupcakes to add a little extra flare. There are hundreds of recipes on Pinterest to give you some cupcake inspo! 
Another super simple but fabulous recipe idea we found were these monster oatmeal chocolate chip cookie bars. They look just as yummy as they sound! Chocolate chip cookie dough mixed with oats and topped off with fall colored m&m candies for a little autumn vibe. Bake and then cut into squares to please the crowd, or just save them for yourself!