Alyce Paris's Long Sleeve Stunners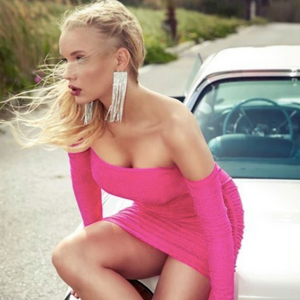 Brand new styles for the 2023 season are coming in hot and we could not be more thrilled to start filling our store with brand new looks for our girls! It may feel like it's a bit early to be thinking about prom, but we promise it will be here before you know it. Now is the perfect time to start your search for your dream dress, that way you have ample time to try on looks and find your ideal look. Alyce Paris has released some of the most fashion-forward styles to date, and we sensed a common theme - sleeves! Sleeves are the perfect way to mix it up and stand out from the crowd at your next special event. Let's jump in and look at several unique numbers with trend-setting sleeves. 
First let's check out Alyce Paris' style 61239. This gown has all kinds of enchanting vibes, it reminds us of a modern day twist on Cinderella's blue dress. It features a square neckline, puff shoulders and sleek long sleeves. The entire gown is adorned with iridescent sequins that will have you shining like a disco ball. The fit is a classic fit and flare with a high leg slit. 
This next number is a short look that is sure to make you shine bright. It is a gorgeous neon pink hue, and has a super unique fit. It is a cocktail length, with mesh fabric ruching from top to bottom. The neckline is straight and strapless, and is made complete with sleeves just attached under the arm - they give the look of detached sleeves which are so fun! 
Last but not least is Alyce Paris' style 61340. This dress is absolute prom perfection! It features a trendy asymmetrical neckline with one shoulder strap, a cutout, AND a long sleeve. The fit is super sleek with a long sweep train. The dress has many embellishments to take it to the next level. It is entirely adorned with shimmering sequins, the long sleeve features beaded fringe details, and it has a high side slit. We could not love this gown more!! It comes in classic black, red or navy blue.