Going Pink with Morilee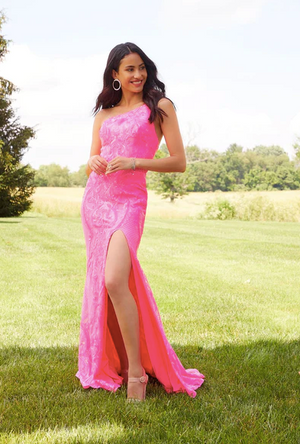 Happy Tuesday, friends! We're coming at you with some of our favorites from Morilee's prom collection that we think are perfect to carry into fall and winter events. Since it's October, we thought we would show you some of our top picks in PINK! We're going pink today with Morilee and you are going to swoon over these stunning styles! 
Starting off strong with Morilee's style 47048! This look is everything! The bodice features a square neckline with thin shoulder straps, all of which is adorned with intricate beadwork. It is paired with a gorgeous a-line skirt, complete with a slit over the left leg. Pictured is the light pink color option called "coral burst", but it also comes in orchid (purple) or scarlet. This dress is truly captivating! 
Morilee's style 47032 has all the hottest trends of 2022 rolled into one fabulous look. This sheath net gown features a one shoulder neckline, sleek fit and high leg slit for added spice. The entire look is adorned with top notch sequins and beadwork that give the gown eye-catching elements and texture. We are obsessed with this gown in pink, but it also comes in an alluring turquoise hue. 
Our third and final pink look is Morilee's style 47050. This hot pink cutie features a trendy off the shoulder neckline, fitted bodice and long straight skirt, complete with a train. The entire gown is adorned with sequins throughout for a gorgeous sparkle. The neon pink color option is definitely a favorite, but we are just as obsessed with the rose gold option!