Enchanting Lilac Looks by Ellie Wilde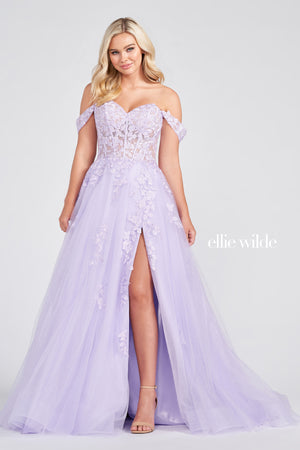 Okay, girlies! Now is the perfect time to start browsing for your perfect prom look and dress inspiration. Our favorite designers are starting to release their 2022 collections, so it is time to take a look and start getting ideas on the style and color you want to go for in 2022! It may feel so far away right now, but we promise, it will be here before you know it! 
    Ellie Wilde recently released their 2022 line and we are swooning! We have taken notice of their super enchanting looks that are sure to make you feel like a real life princess! Let's take a look! First, let's chat about style EW122010. This mikado gown is sure to make you look like a queen. It features an a-line flowing fit, with a simple bodice and lace applique details on the skirt. It has the perfect amount of embellishments! We are loving this one in lilac, but it also comes in royal blue and black. 
    Ellie Wilde's style EW122009 is definitely going to be a fan favorite - for good reason! The embellishments on this one are unmatched! This look features a sweetheart neckline with draping off the shoulder cap sleeves, an exposed boning bodice, high slit and tons of enchanting embroidered details throughout. A gown like this is hard to find, it truly has it all! The tulle of the skirt also has glitter throughout for added sparkle! We also love this one in lilac, but the hot pink and navy blue are also fabulous!
If you are in the market for something a little more fitted, take a look at Ellie Wilde's style EW122008. It is crafted from jersey material, so it will be super comfy. The entire gown is a fitted, straight silhouette. The entire look is embellished from top to bottom. It has a deep v cut neckline, and sheer panel sides. It also sparkles to perfection with cracked ice fabric!