Spooky Sweet Halloween Treats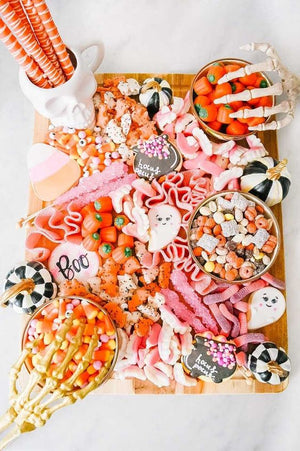 Halloween is fast approaching and we are so excited for all of the spooky things! One of our favorite things about this time of year is the spooky snacks and treats that come along with celebrations. If you are planning a Halloween get together or you are attending one, you can try out some of these spooky treats and wow the guests with your creative skills! 
    First, we thought these pretzel witch fingers were so spooky and fun! Not to mention, they would be super easy to make! All you need are large pretzel sticks, white chocolate, food coloring and almonds. Melt the white chocolate, and add a little green food coloring, dip the pretzels and then let them dry. The almonds you can leave them brown or make some black chocolate to dip them in and that's it! 
    Now, you all know we love a good charcuterie board! We found the perfect candy charcuterie board that will be the perfect grazing board for the guests to snack on lots of treats as the night goes on! Halloween is the perfect excuse to snack on candy all night long - it will definitely be a crowd favorite! 
    Another sweet treat that can easily be spooky-fied are rice krispy treats! Make or buy rice krispy treats, and then all you need is melting chocolate, white chocolate if you want to color it, and some sprinkles or edible eye candies. We think these pink dipped ones are so fun and cute! Add some edible eyeballs or spooky sprinkles and you will have yourself the perfect treat!