Eye Catching Neutrals from La Femme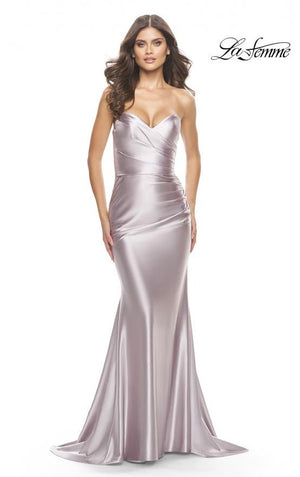 If you are looking for a simple, yet absolutely stunning gown for prom 2023, look no further than La Femme! La Femme has been a lead designer in the prom industry for decades and their gowns are always top notch! We always turn to La Femme when we are looking for a fabulous fit and stunning simple silhouette. So, let's dive in and look at some of La Femme's beautiful gowns for 2023!
This season has already shown to be the year of popular neutrals. Monochromatic looks are everywhere and neutrals are all the rage. With that said, you are in luck because La Femme has some of the most stunning prom gowns in neutral tones! You know what they say, you can never go wrong with a little black dress! La Femme's style 31058 is a strapless sweetheart style with a ruched bodice. The skirt has a high side slit that will show off your shoes, while the flowing skirt will look fabulous in your photos! 
La Femme's style 31322 is a gorgeous silver gown that will have you looking like a goddess! The fit is next level and the fabric shines so pretty. This look features a strapless, sweetheart neckline with a structured bodice and ruching details across. The skirt also has ruching across the hips, and then it flows out into a gorgeous mermaid skirt. This look will accentuate your figure while making you feel like a queen! 
To shake things up a bit, let's look at style 31426 from La Femme. This gown is simple in fit but is entirely embellished with gorgeous sequins. The neckline is asymmetrical, with one shoulder strap. The fit is sleek, the skirt is straight and features a high slit. What we love most about this look is the Bronze color! It is still neutral, but it is sooo eye-catching! This is one of those gowns that really catches everyone's eye!