Elevate Your Winter Wardrobe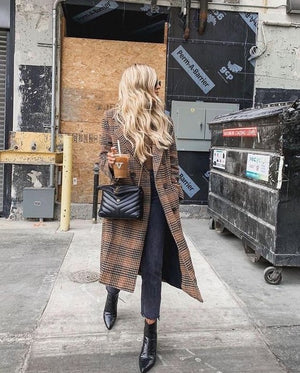 We are officially in that post-holiday-winter-blues season. It's cold, it's pretty gray outside, and we are feeling kind of gloomy. But, do you know the best way to shake off the winter blues? A fabulous, trendy outfit! There are tons of gorgeous winter fashion trends that have taken off in the last few weeks and we just have to share with you! Get ready to elevate your winter wardrobe and feel like your best self! 
First things first - pants! Trousers and looser fitting pants are all the rage right now and we are here for it! Dressy pants that are actually comfortable? Sign us up! In addition to these dressy pants, another pants trend is taking over. Slits on each ankle to add a high fashion flare! Sounds silly, we know. But don't knock them until you try them! These slits are either on the front or side of the ankles, and have a fabulous way of elongating your legs. They also show off your super cute shoes! 
Long, dressy coats are also taking over the winter fashion world. A fabulous winter coat is an easy way to take your outfit to the next level. A coat can be added to a casual look for a day of errands over jeans and a tee. Or thrown over your date night dress with tall boots - the possibilities are endless! A fabulous winter coat needs to be versatile and is usually an investment piece. But, you are going to get so much wear out of it for years to come! 
Another trendy winter fashion staple is one we have seen for a few seasons, but they are back and better than ever! Chelsea boots are chunky, look dressy and are actually really comfortable. They come in tons of neutral colors, but this season is all about cream and tan! They go really well with the monochromatic vibes that are everywhere right now. Go ahead and treat yourself to some new winter boots and kick those seasonal blues goodbye!