Ultimate Barbie Vibes with Rachel Allan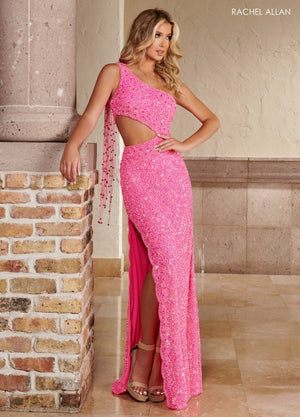 Happy Tuesday! We recently shared some winter looks and neutral-colored prom gowns, so now we are ready to change gears and show off some fabulous looks in one of our favorite colors. Can you guess what it is? Well, if you said hot pink, Elle Woods would be especially proud of you! Rachel Allan has some of the most stunning hot pink looks of the season and we are thrilled to show you girls some of our top picks! 
Rachel Allan's style 70299 has all kinds of fabulous details throughout. It features an asymmetrical neckline with one long puff sleeve. It is fitted from top to bottom, and features a high side slit. The entire look is adorned with iridescent sequins. The hot pink color option is giving all the Barbie vibes and we are obsessed! 
This next style was made to make a fierce statement! It is Rachel Allan's style 70318. This one shoulder stunner features an asymmetrical neckline with one shoulder strap, a large side cutout and a sleek skirt. The skirt has a gorgeous side slit with scalloped details. The entire gown is adorned with beadwork so this look is sparkly as can be! The shoulder also features beaded fringe details that add a dramatic flare to the whole look! 
Another hot pink stunner is Rachel Allan's style 70359. This is another one shoulder look, which is super trendy this season. The long beaded sleeve is as fabulous as they come. The dress has a sleek fit with a subtle sweep train. The entire gown is beaded to perfection and on top of that, is embellished with feather details along the wrist and the slit. This look was made to help you stand out from the crowd!