Fab Prints to Add to Your Wardrobe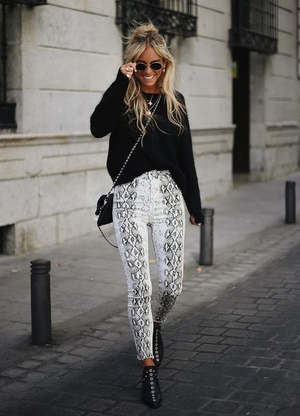 Happy Leap Day! As we say goodbye to February and hello to March, it is the perfect time to chat about the latest trends that are carrying over from Winter to Spring. Prints have been a huge trend that we have seen this year, and we do not see that changing anytime soon! 
Starting at the top, let's talk about leopard print. Leopard print has made an epic comeback and has slowly but surely taken over the fashion world. Leopard is the perfect pop of pattern to add to any outfit. A simple, neutral outfit can be made complete with some leopard booties or flats; a leopard print cardigan can also take a comfy look from drab to fab! Leopard is a print that can go with anything and is the perfect accent to spice up your look! 
Another popular print is snake print. This speckled pattern is so much fun to incorporate into your wardrobe! You can wear snake print with just about anything, just like leopard print! Regardless if it's a neutral look or something bright and fun, adding in a snake print piece or pair of shoes is the perfect way to make your look a little more edgy! 
Dalmatian print is another one we have been loving, and it is such a fabulous print to carry you into spring and summer! This print has a solid white or tan background, with small unique spots. It really is so cute! We love this print, especially in flouncy tops and dresses or skirts. This print is simple, but it is anything but ordinary! The possibilities with these adorable prints are endless and we are so excited to see how they are worn this upcoming season!