Fabulous Florals from Colors Dress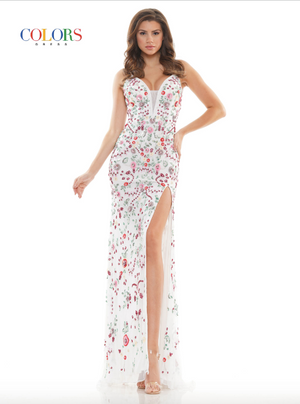 Spring is (almost) officially here and we are so ready for warmer weather and spring blooms! Speaking of blooms, Colors Dress has a gorgeous array of floral-embellished gowns that will definitely get you in the spirit of this new season! 
Colors Dress style K121 is super unique and embellished to perfection. This look features a sweetheart neckline with thin shoulder straps, and lots of beadwork. The floral embellishments fade into a sheer skirt to the floor. This gown is so unique, as it gives the appearance of a short and long dress, all in one! 
This next style is sure to turn heads and make you feel like a true prom queen! Colors Dress' style K117 has a plunging neckline with illusion mesh, a straight fit and a high side slit. This entire gown is adorned with beaded floral patterns that bring gorgeous pops of color to the look - it is truly stunning! 
Colors Dress keeps the floral gowns coming with style K104. This one has a v-neckline, sleek shape and side slit. The entire look is beaded from top to bottom, floral patterns adorn the bodice and around the slit, while shimmering beads cover the rest. Looks like these do not require much as far as accessories, just grab some cute shoes and earrings, and you will be set!