Feathers and Fringe from Alyce Paris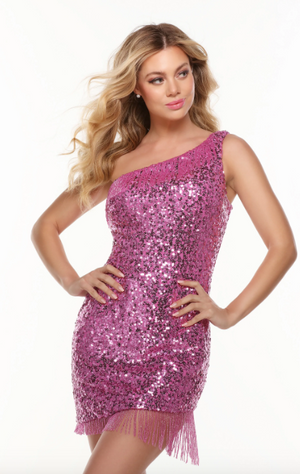 New arrivals for Fall 2022 are making the ultimate splash and we are so excited to see these trend setting looks in action! Whether you are shopping for a fall formal, homecoming or anything in between, we are here to help! Alyce Paris has recently dropped their fall 2022 line, and we could not love it more! These looks are sure to make you turn heads.
  First, let's chat about Alyce Paris's style 4607. This cocktail number features a scoop neckline, long sleeves and a very flattering, sleek fit. The entire dress is adorned with shimmering sequins, and features trendy embellishments on the sleeves. The cuffs of the sleeves are embellished with thin feather details, and we are loving it! 
While feathers are a super hot trend this year, they are not the only eye catching embellishment you can choose! Alyce Paris's style 4611 is next level and features lots of fabulous adornments. This one shoulder look is adorned with metallic sequins from top to bottom, as well as gorgeous beaded fringe along the skirt hem and the neckline. This makes this gown so flouncy and fun! 
Feathers and sequins come in many styles in this Alyce Paris line. Another gorgeous option is style 4606. This short number features a straight, off the shoulder neckline, and simple bodycon fit. The entire look is adorned with iridescent sequins for lots of sparkle! It also features feather details across the neckline that make for subtle sleeves.