Florals and Frills from Sherri Hill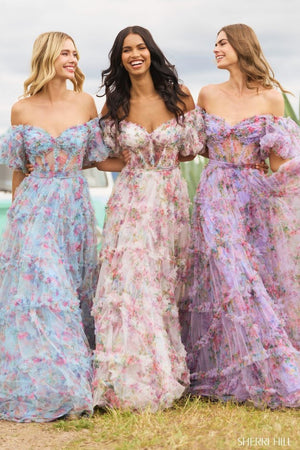 Happy last day of February! Bring on March and all things Spring! With that said, we are highlighting some top notch Sherri Hill styles that are bringing lots of spring vibes. This season's Sherri Hill collection has all kinds of frills, ruffles, florals, and several other eye-catching elements! 
First up is Sherri Hill's style 55507. This tulle ball gown was made to turn heads. The neckline is a straight style with off the shoulder feather details. The bodice has ruched tulle across the waistline to draw it in. The skirt is the real eye-catching element for this gown. The tiered ruffled skirt has fabulous layers of tulle that look like something straight off the red carpet. 
Florals are making a comeback this season and of course, Sherri Hill is ahead of the trend. Style 55541 is another tulle gown that has a more relaxed fit. The bodice has an off the shoulder neckline with puff balloon sleeves. The bodice has sheer illusion panels with exposed corset details. The skirt is an a-line style with subtle ruffles throughout. The entire gown has a floral pattern throughout. This look comes in five color options, all of which are stunning! 
Style 55500 from Sherri Hill is another ruffled number that is sure to make you stand out from the crowd. This style has a sweetheart neckline with off the shoulder straps. The bodice is structured with corset details across. The skirt is crafted from tiered ruffle tulle. The entire gown is adorned with embroidered details and subtle sparkles. The light pink is pictured here, but you have to see the black as well!