Getting Ready for Galentine's!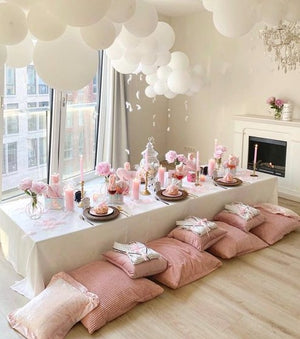 Whether you have a Valentine or not, you can still celebrate GALentine's in a festive, fun way! Galentine's parties are always something we look forward to each February. It is a fun time to get together with your best girls, eat yummy snacks, watch movies, and just enjoy each other's company! Galentine's get togethers can take place any time between now and Valentine's Day, so get to planning the ultimate girls bash! If you need some inspiration, we've got you covered! 
First things first, get a list together of friends you are going to invite. From there, talk to the girls and set a date and time. After the key scheduling pieces are figured out, you can talk about food! Party food is the essential piece of the puzzle for a good party! Decide if you want to do all sweets or a mix of savory and desserts. We suggest a mixture! You can do something simple like order heart shaped pizzas, throw together some charcuterie, along with other yummy snacks. You can ask guests to bring finger foods so you all will have a whole spread! As far as sweets go, chocolate covered strawberries are always a hit! 
Décor is another aspect to think about. A fun spot for your group to take photos would be perfect as décor and will take up empty space. We love this simple XO background with a Valentines-inspired balloon garland. Balloons go a long way when it comes to super cute, but simple décor. We love this balloon garland, as well as the large foil balloons in hearts or XO's. When it comes to décor, the more color you can add, the better. Lots of flowers and balloons are just about all you need! 
 Last, plan for an activity! The new season of the Bachelor just started and that would be a perfect time to plan a Galentine's event around. A Monday night viewing party with snacks and sweets? Yes, please! You could even plan it to be a pajama party so everyone can stay cozy. If the Bachelor isn't your speed, you can always plan to watch a classic Rom Com movie or play board games - the possibilities are endless!