Jovani's Dramatic Trains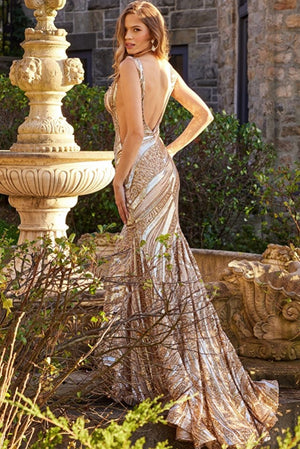 Get ready to make your grand entrance at prom 2023 with Jovani! This season's Jovani gowns are next level and they are truly so fabulous! With fresh styles, top notch designs, and high end embellishments, Jovani is ready to take 2023 by storm! Get ready to be dazzled because these styles are swoon-worthy. 
Jovani is bringing the drama this season with fabulous trains that will make you look like the queen you are! Jovani's style 06153 is a stunning gown that will have you standing out from the crowd. The neckline is a sweetheart with plunging details. The shoulder straps are a medium width for added comfort. The bodice is a sleek fit that flows into a long sweep train, complete with a horsehair hem. We love a horsehair hem because it adds lots of movement and shape to the hemline of your gown. The pattern on this gown is truly captivating and extremely unique. 
Jovani's style 22314 is a silver and gold sequin mermaid style that is strikingly gorgeous. This gown features a wide v-neckline with shoulder straps and a sleek fit. The gown has a straight silhouette all the way down to the skirt, where it flows into a long, dramatic train. The beadwork pattern across the gown creates gorgeous lines that accentuate the fit even more. We are obsessed with this number! 
Another favorite from Jovani is style 03570. This gown features a plunging v-neckline with shoulder straps. The bodice on this gown is super sleek and draws in the waistline. The skirt is straight in the front, and has a long train to accent the back. This hemline also has a horsehair hem. The entire gown is embellished with a glitter pattern that adds to the overall look.