Gingerbread Holiday Festivities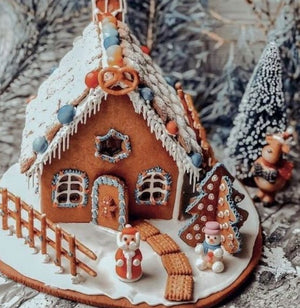 Gingerbread season is in full swing and it is the perfect time to bake up some goodies or grab a gingerbread house to decorate with your pals! There is so much you can do with gingerbread, and just the smell alone is enough to get you in the holiday spirit! 
Baking is always a go-to holiday activity for us and we want to encourage you to try it out this season. Whether you are an expert level baker or just starting out, you can definitely find a gingerbread cookie recipe to try out. Baking gingerbread is sure to fill your house with the scent of holiday cheer. You can also make cookie decorating a fun activity for your best pals or family to do together! 
Gingerbread house decorating is a tradition that we will make sure we make time for each season. It is such a fun way to get in the holiday spirit, while also taking time to relax and get creative. You can plan a whole gingerbread house party for you and your friends or family to do together! Make it a fun competition and see who can make the best one! 
If you are not feeling like making cookies, try out gingerbread cupcakes. These cupcakes are perfect for the season and will really give you a taste of Christmas. With tastes of ginger, molasses, and spices make the cake perfection. While the icing is made of cream cheese and pairs perfectly with the cake. These are a must-try!!