Shining Bright in Jasz Couture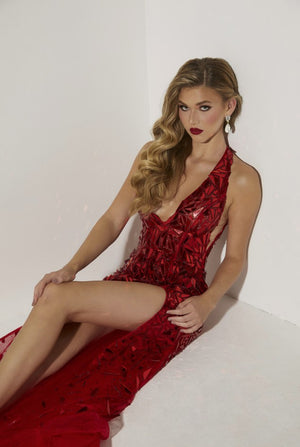 'Tis the season for all things red and sparkly! Speaking of sparkly, have you seen Jasz Couture's new collection for 2023? It is jaw-droppingly gorgeous and we could not be more obsessed if we tried. These gowns are next level and we cannot wait for our girls to see them. We thought today would be the perfect time to show off some of Jasz's most fabulous styles! 
Style 7401 from Jasz Couture is dripping in gold! This style features mirror embellishments from top to bottom that shimmer and shine so bright. The fit is a one shoulder neckline with a sleek bodice and high leg slit. The slit is also adorned with a subtle beaded fringe to accent it as well. Pictured is the gold, but it also comes in blue, red and silver.
This next style is a red hot look that is guaranteed to turn heads. It is Jasz Couture's style 7415. This look has it all going on! A wide, plunging neckline, a sleek fit and a high leg slit. The entire bodice is adorned with cut mirror embellishments for sparkle and an edgy vibe. The embellishments fade out as they go down the skirt. The fit is a classic straight and the red hue is our fav! 
Last but certainly not least is Jasz Couture's style 7445. This emerald green beauty is ready to slay your next event! It features a unique neckline with a sweetheart neckline and open center. The bodice is super sleek and the waist has lots of captivating ruched details. The look is made complete with a high slit and open back.