Golden Goddesses with Rachel Allan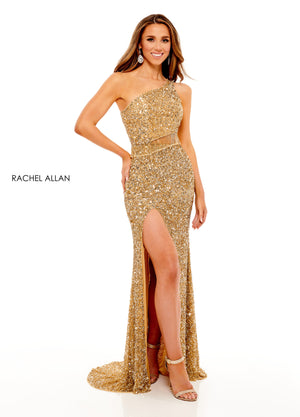 Hello, lovely readers! Are you ready to see some of the hottest looks from this season's line? US TOO! Rachel Allan has come up with some wonderful looks this year, and, to be quite frank with you, their golds are absolutely stunning. So let's drive into this sea of gold and view some of our favorites!
First up is Rachel Allan style number 70146. This is an all over sequin dress that absolutely radiates! The dress features a beautiful lace up back and double band, sequin spaghetti straps. This dress is definitely a head turner and even has a slight train to complete this dress! 
The next dress is Rachel Allan style number 70163. This dress has the best of both worlds: sequins and beading. This dress is a total gem. The dress features an intricate beading design that is highlighted by sequin detailing. It also features a lace up back and a beaded slit, just to give you that extra detailing!
The final dress is Rachel Allan style number 70186. This dress is sooo unique and we are here for it! She features both fringe and cutouts. AND WHO DOESN'T LOVE THAT! The sequinning also gives a few extra points to the gloriousness of this dress. Nonetheless, these dresses are total wins for any event!