Thanksgiving Treats!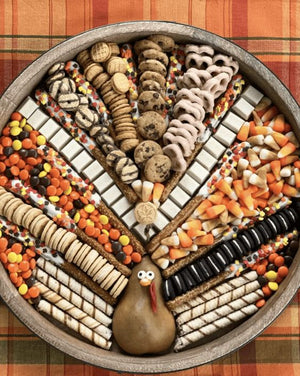 Thanksgiving is coming up soon and you know what that means! It is time to make some of your favorite treats for your family! These snacks are perfect to munch on during thanksgiving day football watching! With that being said, let's get into this extra tasty blog!
Up first on our list of thanksgiving themed snacks is a snack mix! This is super easy to make and is perfect for families that love snacking. All you need is beugels, chex cereal, m&m's. Pretzels, and popcorn! For the popcorn, it calls for regular and caramel covered. You can either make it yourself or buy it at the store, we don't judge! Then you just mix it all together for a yummy snack. You can also drizzle some melted chocolate on top for a little extra sweetness!
The next treat is rice krispie pumpkins! This is the perfect sweet treat for thanksgiving! You just make rice krispies per usual except you roll them up onto balls. If you want to make them look even more like pumpkins, you should add some orange food coloring! To add the final touches you can put a rolo on the top for the stem and some frosting for the leaf.
Lastly is acorn nutter butters! This recipe is sooo simple! You can either buy mini nutter butters or break normal ones in half. Then you dip them in your chocolate of choice and add some sprinkles. Then you just add a pretzel for the stem and you're done! This treat is so perfect for thanksgiving! Hopefully you will try our thanksgiving treat recommendations!