Happy 4th of July!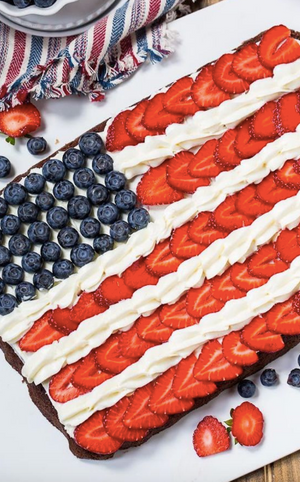 Let freedom ring!! Happy Independence Day, everyone! How are you spending this holiday weekend? We hope it is filled with lots of fun and time with your loved ones! 
Okay, so if you are heading to or hosting a cookout this weekend, try out one of these adorable treats that are so festive for the 4th! First up, chocolate covered strawberries! Dip your strawberries in white chocolate, and then add some blue sprinkles and you will be set! These little treats are the perfect balance between sweet and refreshing! 
If you want to go for something sweet for your July 4th plans, try out this adorable sheet cake topped with fruit! It can be made with any kind of cake baked in a sheet pan, topped with white icing, and then add blueberries on top in the left corner to act as the stars, and rows of cut strawberries throughout to act as the stripes. Once you get the icing and toppings on, you have yourself a tasty flag! 
Nothing says celebration quite like a charcuterie board! These cheese, meat, and fruit trays are always a huge hit when it comes to get togethers! And making one in festive patriotic colors is super easy! Grab some of your favorite red fruits from the grocery store, more blueberries, white cheeses, and some crackers! Slice and dice to your preference, and throw in some star-shaped elements and you have an award-worthy charcuterie!