Tips and Tricks to Tidy up Your Vanity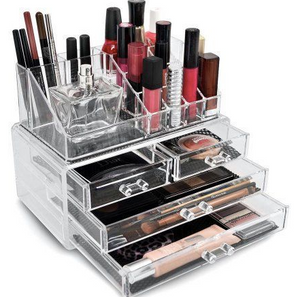 Mid-Summer days call for some cleaning! You read that right, it's time to tidy up and today we're going to give you a few tips to freshen up your makeup station! It's one of those things that have to be done, and once you complete the project, you feel 1000 times better!! So, let's get started!! 
First thing's first - clean those makeup brushes! They need to be cleaned regularly because products and powders get built up inside and can break out your face, and make your makeup go on much heavier than normal. So, grab some brush cleaner and give those babies a refresh! Make sure to let them dry really well before using them to apply anything! 
Next, you may need some reorganization to keep everything in order. We recommend getting clear acrylic bins and drawers so everything is visible and it will also hold you accountable for keeping it tidy! 
Our last tip is to find something to hold your brushes with the brush facing up. This allows your brushes to all stay together, without getting smushed in your makeup bag! It really is so simple, but is totally a game changer!! We hope this little PSA about cleaning your makeup was super helpful and inspires you to do a little get-ready station refresh!