Happy Halloween!!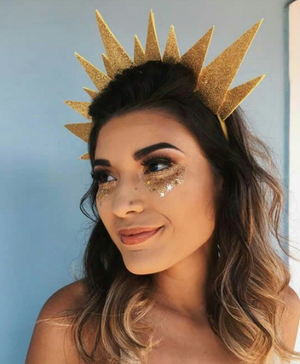 It's spooky season!! Today is the day and if you haven't decided on an outfit yet, now's the time! One of our favorite parts of Halloween is the chance to do makeup that we would normally never get to wear. We've picked three of our favorite makeup-heavy Halloween looks just in case you need a little inspo!
Up first is the sun! This costume is especially cute if you have a friend who dresses up as the moon. And the best part is that this costume is super easy to make!! All you need is some gold glitter and supplies for a headband! When creating this look, try out a gold smokey eye look and then add alllll the glitter! We're game for anything the gives us a reason to throw some sparkle on our faces, and this look is sure to give you some insta-worthy pics. 
Next we have a true classic- the cat. This one requires minimal effort as well! All you need is some black liquid eyeliner and a headband with ears. To create this look, draw on a nose and some whiskers, and create a thick cat eye. Throw on your headband and you're ready to go!
Finally we have a pro level look. A skeleton is the iconic Halloween look!! For this costume, you need white and black face paint. Start with some heavy eye makeup and go from there. You may need a friend's help for this one, but it's totally worth it!
Happy Halloween, witches. Stay spooky!