Homecoming Cuties from Aleta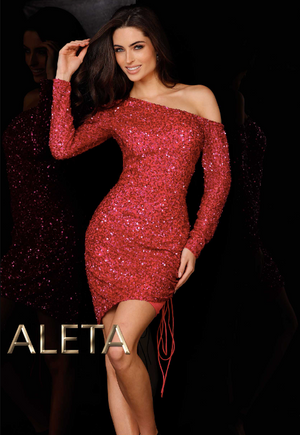 Happy First Official Day of Summer!! While summer festivities are in full swing, designers are beginning to release their homecoming and fall 2022 collections. While we are not quite ready to think about going back to school, we do want to chat about these fabulous new looks! Now is the perfect time to start browsing styles for fall events, so you are sure to get exactly what you are looking for! Aleta's fall 2022 collection is packed full of swoon-worthy cocktail length dresses, perfect for homecoming, fall formal, etc! 
Aleta's style 768 is super cute and will be fabulous for fall events. It features a sweetheart neckline, sleek fit, a small slit and gorgeous beaded fringe. In true Aleta fashion, this dress is entirely adorned with beadwork from top to bottom, and we are obsessed! This look comes in AB Ivory, Black AB, Cinderella Pink and Neon Green. So, you have the ultimate pick between neutrals or neons! 
This next look is homecoming perfection! It is Aleta's style 713. This cocktail number has a little bit of everything! It features an asymmetrical, one shoulder neckline with long sleeves. The fit is form fitting and sleek, and has ruching details with a tie on the hip. The entire gown is beaded to the 9's! It shimmers like a star! This fuchsia hue is our favorite, but it also comes in red and royal blue! 
Aleta's style 722 is trendy and fabulous! It is another short number that is bright and beaded to perfection! The neckline is a plunging v-neckline with thick shoulder straps and a structured bodice. The fit of this look really accents your figure! It is entirely beaded in an intricate pattern which will definitely turn heads. The back is just as fabulous - it is mostly open, with a strappy detail, and fringe details which is super unique!