Homecoming looks with La Femme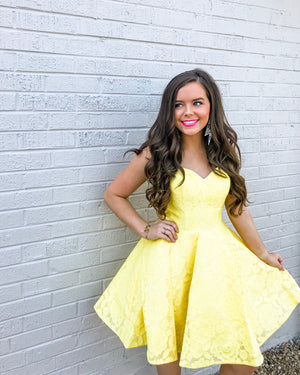 It's homecoming time and the CUTEST new dresses just came in! La Femme sent us some of their top styles for homecoming this year, and we couldn't wait to show them to you. Here are just a few of our newest short and sweet dresses on our very own Formal Approach girls. Keep in mind that these dresses are available in-store right NOW, so come shop with us!!
Every girl needs a bold red dress! Baylee is rocking style 28229, and it's perfect to wear under the lights if you are on hoco court! This fully sequined short has a strapless sweetheart neckline that gives you plenty of room to accessorize with some statement earrings. We are in loooove with the red, but you can also get this dress in gunmetal!
Hello yellow! Lily is giving us major Belle vibes with her iconic brown locks and this sweet yellow dress. Style 27334 is an allover lace dress with rhinestones that add just a touch of sparkle! This dress is also strapless with a sweetheart neckline and a super cute flare at the bottom. Along with yellow, this comes in white, electric blue, and hot pink!
Finally we have the classic little black dress! Callie is wearing style 28156. This dress is perfect if you want a classic look, or you're dying to add a trendy printed shoe to your look. This dress has a satin bodice with a scoop neck and a tulle flare skirt. Throw on a pair of leopard print heels and you're ready to go!
These are just a few of the super cute looks we have waiting for you! Visit us at Formal Approach for the newest homecoming looks, we can't wait to shop with you!!