International Prom Fashion Week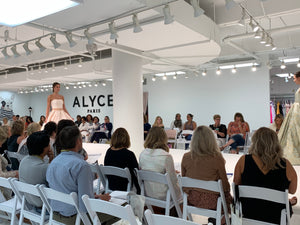 It's that time of the year again… International Prom Fashion Week!! Also known as our favorite time of the year, International Prom Fashion Week is a full week of fashion shows, brand new styles, and all things prom. It takes place at AmericasMart in Atlanta, Georgia, which is like a 15 story mall with all of the hottest trends of the season, and we spent a whole week there shopping for YOU! That's right, we did our research, asked you some questions via Insta story, and picked out the perfect dresses for our girls! So, after shopping til we dropped, we wanted to give you some super secret insight on what the top trends will be for prom 2020!
The first trend that jumped out at us is BOLD! Bright, bold, neon colors are so in for prom this year!! While all neon colors are sure to make a statement, our favorite bright color choice is hot pink! Some of our girls steer clear of pink, afraid that it may make them look young, but this hot hue is too gorgeous to pass up this year. If you're thinking about trying out a hot pink look but wanting to keep it mature, choose a mermaid silhouette or a strapless neckline that takes pink from preteen to senior year style!
We didn't see a whole lot of beading last year because silky satin dresses were everywhere, but that's all changing this year! Fully beaded dresses are back and better than ever!! The glitz and glam of these dresses are perfect to turn prom into your very own red carpet. If you love a little shine, go with a neutral beaded gown like a gunmetal or blush tone. But, if you're really trying to make a statement, get all dolled up in a brand new patterned beaded dress! These gorgeous patterns are made up of beautiful color patterns- blues and pinks, fuchsias and orange tones- all made even more glamorous with a beaded sparkle!
Texture was getting popular last season, but now it is trending for sure. Velvet dresses are so in (we'll tell you all about that in a blog a little later) along with floral appliques! Floral applique dresses are so romantic and can help you achieve that whimsical look that every girl dreams of! Usually in pastel, these dresses are dotted with little 3D flowers that give a couture feel to any gown. And we'll let you in on another secret- We've got the most gorgeous blue ball gown with floral appliques on it's way to Formal Approach! We can't wait for you to see it!
If you're saving all these ideas to make sure you're ready for prom 2020, check out our Instagram page! We'll keep you updated with the hottest trends and newest dresses!