International Promise Foundation Black Tie Gala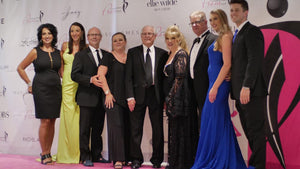 International Prom Fashion Week wasn't alllll work, actually we spent a lot of time shopping for the prom season which really wasn't work anyway, but we also attended the International Promise Foundation Black Tie Gala and Retailer's Choice Awards! The Black Tie Gala funds work done by the International Promise Foundation, a nonprofit organization whose mission is to have a positive impact on our world and aid in issues that are pressing to today's teens. The Gala is one big party with everyone from the prom industry in attendance, so you can imagine the fashion we saw and the fun we had! 
The Gala was a night full of super fun events! There was an awards presentation, a silent auction, and a casino set up just for fun! The awards presentation started the evening and dozens of retailers, sponsors, and representatives were recognized for helping to make our industry so incredible! Following that, everyone had some free time to test out their luck at the casino- not to brag, but the Formal Approach team did some winning this year!! To close out the night was the silent auction, and the prizes were amazing. Diamond necklaces, stunning watches, and even an ARod signed jersey were up for grabs! It was all tons of fun, and we are so glad that we were able to be there!
The Formal Approach team loves going to the Black Tie Gala every year. We get to have a blast while helping make a positive impact on the concerns of our industry and our customers. We're already excited to go back next year!