La Femme's Bright Summer Hues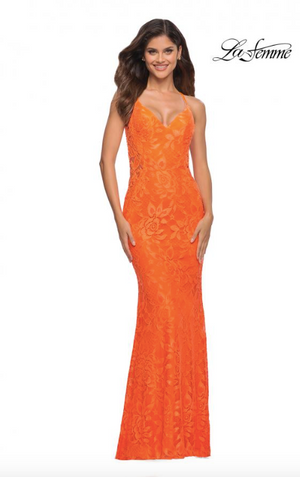 La Femme's current line is full of gowns from every end of the spectrum. From their signature lace numbers, to classic a-lines or neon numbers, La Femme truly has it all! With that said, it is easy to see that La Femme has a little something for every girl's taste. Bright hues are present throughout the collection and we are obsessed with them! These gowns are giving us all the summer vibes! 
First on the list is this fabulous neon pink number, La Femme's style 30667. This gown is the definition of trendy. This gown is crafted from fabulous jersey material, making the fit so stunning. It features a v-neckline and criss cross ruching on the bodice. The side also features super trendy cutout details and a high slit. The neon pink color will make for an epic entrance in your next special event! 
This next gown is a signature La Femme look. It's La Femme's style 30684 is made from their famous stretch lace material which gives you the gorgeous look of lace, while also giving you a stunning fit. It features a v-neckline, thin shoulder straps and illusion side panels. The entire gown is covered in intricate lace from top to bottom. This gown comes in neon pink or orange. 
Another favorite summer hue is aqua! La Femme's style 30462 is a fabulous jersey material gown features a wide v-neckline with thin shoulder straps. A wrap skirt design with lots of ruching details and a high slit. The back of this one is open and strappy, which adds even more to the look. This gown is sleek and simple, which leaves you lots of room to accessorize however you'd like!