Summer Must-Haves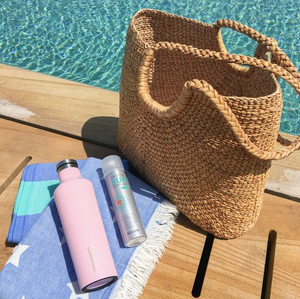 'Tis the season for summer sunshine and lots of days by the pool and on the beach. We are so excited for vacay season and we wanted to round up several must-haves for your summer beach / pool days! 
Going to the beach or pool is usually an all day or several hour occurrence, so you want to be prepared! Make sure your beach bag is fully stocked with sunscreen for your body, as well as SPF for your face because reapplying throughout the day is key! Other beauty must-haves would be a hair brush and detangler spray. The beachy wind and salt always creates some crazy tangles, so it's great to be prepared to tackle those as soon as possible! 
Whether you are hitting the pool for a few hours, spending your day on the sand or just sitting outside for a bit, a sunhat is an absolute must! Sunhats are an easy go to to jazz up any summer outfit, and also work to keep sun off your face. There are several styles of sun hats to choose from, so you are sure to find a style that will suit you! 
Now, no pool day is complete without a super cute towel and a fabulous float to soak up all those rays!! Every store is stocked full of fabulous pool and beach towels right now, so you can definitely find a pattern or color that you love! Floats wise, you can never go wrong with a flamingo float or one of these fun ones will really set your pool day off to a fabulous start!