Layered Looks by Rachel Allan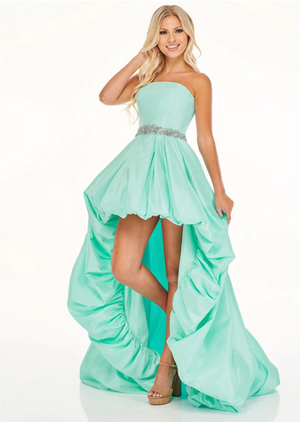 Rachel Allan's 2021 collection has blown us away! This year, they have included several styles that have gorgeous layering details that add some much-needed drama to your look! These tiered styles are so fun and flouncy - you will be obsessed!! 
    First, let's look at Rachel Allan's style 70032. This pretty pastel is such a fresh look - you will not find anything like it! It is actually a high-low look, with a straight across neckline, and tiered skirt. The multiple layers to the high low, give it so much more texture and add a dramatic flare. The back is mainly open with a few strappy details. 
    Next is another super fun high low style that is perfect for dancing the night away! It is Rachel Allan's style 70068. The straight, strapless neckline, sleek bodice and bubble high low skirt make this style so much fun! It is more on the simple side when it comes to embellishments, but it does feature a silver beaded belt to add a hint of shimmer! 
 Last but certainly not least, is Rachel Allan's style 70074. This look has it all! With a sweetheart neckline, beaded waist and tons of layers on the skirt, this style is sure to wow the crowd! This style is also a high-low with tons of layers to its tiered skirt. A style like this is fabulous to make the most perfect prom photos!