New Year, New Wardrobe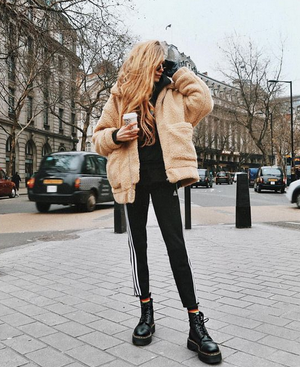 New year, new wardrobe! Well, kinda! You do not need a whole new wardrobe for 2021, but you may need to freshen up your selection with a few new closet staples! This season we have seen athleisure and loungewear take off and we are totally here for it! But, we have also seen a few other pieces that have become super popular that you can dress up or wear with your favorite pair of leggings! 
    First - let's chat jackets. Corduroy jackets have already been huge in 2021 and we are just getting started! Cropped corduroy jackets can be worn with anything and make you look put together! These jackets come in all kinds of colors, we suggest getting one that is a little more neutral; so maybe a black, brown, gray, or even a blush! 
  Another favorite is a fuzzy jacket - you have probably heard them called "teddy" jackets because they remind you of a teddy bear! These are usually a fuzzy tan jacket, we really love the cropped style, but it can also come in other fits! 
    Best for last! Another huge trend we have seen come to light this season is the Shacket - a shirt/jacket! These jackets aren't super thick or bulky, but look like a shirt. Often, they are flannel and have a super trendy plaid pattern! We love shackets with casual outfits like a bodysuit and jeans, or just throw it on over your leggings and tee to run some errands. Really, all of these pieces are super versatile, and will quickly become go-tos for your wardrobe!