Mastering Metallics with Colette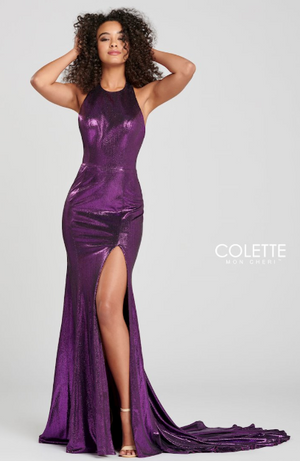 We all love a metallic look. Metallics have been trending for a while now, and no one can get enough! This shimmering fashion trend has transitioned from earthy charcoal and bronze tones to bolder colors. But, the designers at Colette have created a few dresses that take the trend a step further. Using a fabric called liquid lame ("la-may"), the designers have brought a whole new look to metallics! These bright colored gowns incorporate all of the newest trends with metallic fabrics that are sure to wow a crowd!
Style CL12001 is a form fitting gown with a gorgeous lace-up back. The plunging neckline has strappy criss-crossed details, and a high slit finishes the look. This dress comes in  a stunning ice pink as well as a turquoise color option.
Style CL12002 is an off-the-shoulder dream. This form fitting gown comes complete with a super cute scoop back and side cutouts. It comes in a classic silver, an envious emerald, and our personal favorite- hot pink!!
Finally we have style CL12005- a classic look in a modern fabric! This high-neck gown is form fitted with a circle train. It has an ultra low back and a high slit that give a dramatic feel. This dress comes in turquoise and a pretty purple!
Shop all new Colette metallics with us now!