Nicole Bakti's Classic Black Numbers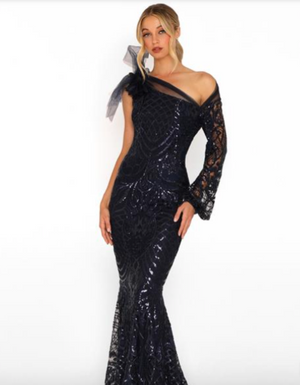 We hope everyone had a wonderful Christmas weekend! We are now in that weird time between post-Christmas but awaiting New Years! With that being said, we are here to give you some fabulous inspo from Nicole Bakti, for any special NYE plans coming up in the next few days! 
Nicole Bakti's style 7152 is a sleek black dress that is made from thick material that will accentuate your figure fabulously! This dress is perfect for NYE parties, outings or any kind of celebration. It features an off the shoulder neckline with slit sleeves, ruching across the hips and a high side slit. The side is adorned with zipper details for an edgy feel. 
Style 7121 from Nicole Bakti is giving all the NYE vibes! This dress has a little bit of everything going on and we could not love it more! It features an asymmetrical neckline, one long sleeve and the other shoulder is adorned with a tulle bow. The dress has a sleek fit, that has a classic fit and flare silhouette. The entire gown is adorned with black sequins to add that sparkle element! 
Last but not least is Nicole Bakti's style 7146. This strapless number was made to help you stand out and shine bright! It features a strapless, sweetheart neckline with a corset bodice. The corset bodice has sheer panels for an edgy element. The skirt is a simple a-line, but it is crafted from numerous layers and is adorned with sequins throughout. The look is made complete with a high slit over the right leg.