Nicole Bakti's Feathered Beauties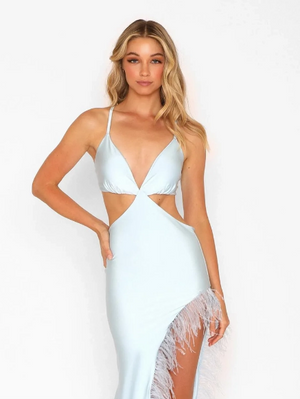 Let's talk about trending embellishments! Nicole Bakti is bringing their A Game to the prom 2022 season and we are swooning! Lots of beadwork, sequins and lace are present throughout this collection, but we want to chat about the most trendy embellishment this year - feathers! 
First up is Nicole Bakti's style NI1013. This gown has a straight, subtle sweetheart neckline, thin shoulder straps, and off the shoulder sleeves. The neckline is adorned with silver stones, as well as gorgeous feather details. The fit of this gown is sleek and hugs your curves beautifully! The skirt has a subtle trumpet at the bottom, complete with a horsehair hem. 
Next, let's look at Nicole Bakti's style NI1015. This look has a lot of embellishments and trendy features going on. A deep v-neckline, side cutouts and an asymmetrical skirt lined with feathers are just a few of the highlights. The back of this one is mostly open with trendy lace up details that add to the fit. This gown comes in black, pink and light blue. 
If you want to wear more subtle feather details, take a look at Nicole Bakti's style NI1011. This gown has a sleek, simple fit that is absolutely fabulous. It features a v-neckline, straight fit and a sweep train. The feather embellishments on this gown are on the shoulder straps, adding a little unique flare that is so fun!