Orange Fashion Trends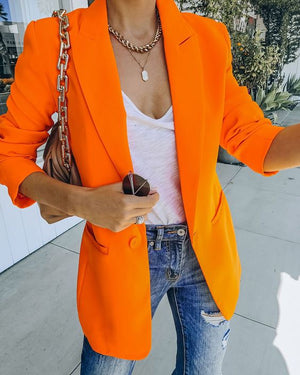 Last year, she was all yellow. This year, though, we're bringing in the orange! Whether you're from East Tennessee or Coastal Cali, orange is the fashion trend of the year. This color definitely spices up our wardrobes, and it has so many different variations. So let's dive right into this sunset colored blog.
Starting with the vibrant orange, this super trendy blazer can be dressed up or down. It pairs well with a white tank and your favorite gold necklace. Matching orange shorts also work great with this look. 
Another way to where orange is as an accent color in your athletic wear. Whether the accent is in your shoes or in your jacket, a pop of orange will definitely upgrade your boring yoga look to a bold athlete style.
Finally is the monochromatic look. This look is bold and absolutely to die for. The Hailey Bieber inspired look is great for a quick lunch date or even another day at the office. Overall, these orange fits are the perfect way to brighten up your boring closet. So go get some orange looks!