Show Stopping Beauties with Jovani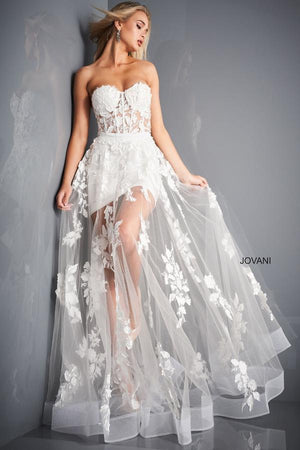 Jovani is back at it again, lovelies. They're showing off some of the hottest fashion trends, and definitely making a statement in the world of Prom. From wild laces to stunning sheers, Jovani has the statement dress you've been craving for your Prom look. Let's check out the first dress on the runway.
The first head turner is Jovani style 02845. This total babe is the perfect combination of a whimsical princess and a dramatic entrance. The sheer skirt has a beautiful lace design to add gorgeous detailing. The horsehair also adds a great dimension to the skirt. 
The next lovely dress we're talking about is Jovani's style 03139. This doll has Cruella written all over it. This design is super cute with its high slit and shorts. The contrast is also great and absolutely stunning when you walk in. The bow on this dress also adds great detail. 
This final style is Jovani style 03615. Now, talk about a mirrorball. This dress gives all the glory to Taylor Swift with it's cut glass look, and it's a total show stopper. The dress' off-the-shoulder sweetheart neckline also adds the perfect amount of classy to the look.