Patterned Perfection from Nicole Bakti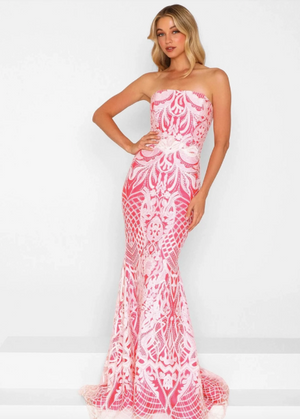 Looking for a formal dress that is fresh and super unique? Well, look no further than designer Nicole Bakti. Nicole Bakti's prom collection houses so many fabulous gowns that are next level, and are sure to help you stand out from the crowd. We have talked about their gorgeous simple solid looks, but they have so much more to offer, too! 
Let's talk about patterns! Patterned formal gowns are so fun and unique. Nicole Bakti has several patterns to choose from to be totally trend setting at prom. First, let's check out Nicole Bakti's style NI1028. This gorgeous fit and flare gown is just fabulous. It features a sweetheart neckline, thin shoulder straps, a structured bodice and trumpet skirt. The entire gown is adorned with stunning sequins, creating an eye-catching pattern from top to bottom. The light blue and navy color option is our top pick, but it also comes in pink.
Next is a gorgeous pink number with white embellishments that is giving us total Elle Woods vibes! It is Nicole Bakti's style NI1030. This gown features a straight, strapless neckline, structured bodice and a sleek fit. This look has a bright pink undertone with white embroidery patterns from head to toe. The white embellishments really pop on the pink underneath, making this look so pretty and unique! 
If you want to go for something a little less traditional, check out Nicole Bakti's style NI1034. This one shoulder look has an asymmetrical style with ruching across the bodice and a high side slit. The jersey-like material makes for a fabulous fit, while also creating lots of ruching details across the bodice. The pattern is almost like a tie dye inspired look, using hot pink, black and white to create a super unique gown.