Rhinestone-Studded Hoco Looks from Portia and Scarlett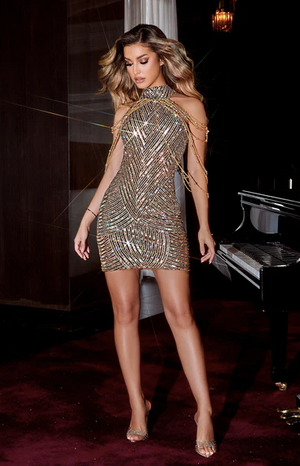 Get ready to shimmer and shine in Portia and Scarlett's Fall 2k22 collection! These cocktail numbers are adorned with top notch beading and sparkles. Homecoming has never been more trend-setting and fabulous! We love that Portia and Scarlett go all out on their looks - you girls know that we are always here for being a little ~extra~! 
We are loving the neutral color options from Portia and Scarlett, and we think a classic neutral with next level embellishments is the perfect homecoming look. Style PS23503C is a silver nude stunner that is ready to have its moment under the Friday night lights. This look has a gorgeous sweetheart neckline, sleek fit, cold shoulder draped sleeves, and beadwork for days! The beading on this one is bold, and we love the scattered look. We cannot forget to mention the beaded fringe, either. It adorns the neckline, sleeves, and hem. 
This next look was made for the homecoming queen! It is Portia and Scarlett's style PS23512C. This form-fitting cocktail number is dripping in gold. It features a high, halter neckline, sleek fit, and several layers of draping beadwork over the arms. This adds such a unique element that is sure to turn heads! The beadwork will be shimmering all night long!
Similar to style PS23512C, is Portia and Scarlett's PS23505C. While both of these knockout numbers feature a high, halter neckline and similar beadwork pattern, this last style has lots of extra flare. It features trendy cutout details across the bodice, complete with illusion mesh for added security. It also features the signature Portia and Scarlett draped beaded sleeves. Make the entrance of all entrances in this little gold ensemble!