Trending Sneaker Styles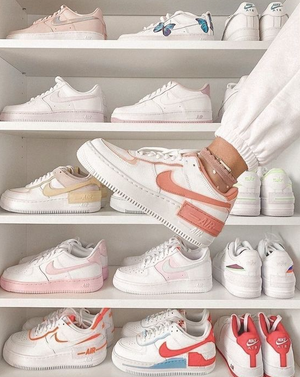 We know it's only mid-August, but we cannot help but start to get excited about transitioning into Fall! With school starting back, and summer slowly starting to wind down, we thought it might be a great time to chat about the most trendy sneakers to transition into a new season. These sneakers are cute as can be and you will be able to wear styles like these all year long! 
White sneakers have made the ultimate come back in the last few seasons, and these closet staples are not going anywhere, any time soon. A classic pair of white sneakers will easily become your go-tos when it comes to styling outfits. These sneakers can go with distressed denim, casual dresses, athletic wear, etc! They can easily go with any type of outfit, and can also be worn in any season. There are tons of styles and brands that have super cute white sneakers, so there are hundreds of options to choose from! 
No other sneaker made a comeback quite like the Nike Air Force 1s. These sneakers are back and better than ever! We love the classic white style, but there are tons of different color combinations to choose from. The array of colors and styles in these cute sneakers that you are sure to find something you love. There is really a pair for everyone, so get ready to level up your looks and set new trends! 
Another trend that has resurfaced in recent months is the return of the high top sneaker. High top sneakers come in so many styles and various brands. From classic Converse to Air Jordans, or trendy looks from Target, there are so many options! Pair high top sneakers with straight leg jeans, cute skirts, and anything else you want. Just make your outfit your own and wear what you feel best in!