Simply Stunning with Nicole Bakti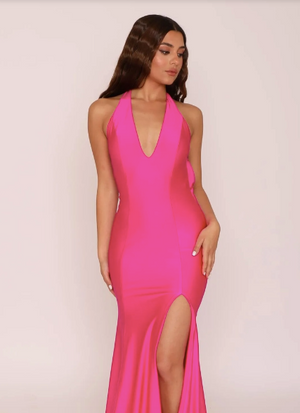 While we recently chatted about fully beaded gowns, we wanted to take a step in a different direction. Nicole Bakti has the most gorgeous gowns in their current collection, and there are several simple gowns that are just stunning! If you are looking for a gown that is sleek, has a gorgeous fit, and is perfect for any occasion, Nicole Bakti has a look for you! 
First up, Nicole Bakti's style NI1029. This number has a super flattering fit, v-neckline, and slit on the left leg. The back is open with lots of strappy details and a corset tie. It also has a fabulous sweep train for added dramatic flare. While this dress does not have beading or other adornments, it makes up for it with the stunning fit! This Nicole Bakti number comes in green, red, pink and aqua. 
Style NI1027 by Nicole Bakti is simple, bright and stunning! It features a halter neckline with a plunging v-cut bodice. The fit is sleek with a high slit and sweep train. The back of this look is also open, but this one only has two thin straps across the shoulders. We love the unique neckline of this gown, and the hot pink color is just stunning! You can also get this number in red or navy blue, if pink is not your first pick! 
Last but not least on our simple gown tour is Nicole Bakti's style NI1025. This gown features a v-neckline, shoulder straps and a stunningly sleek silhouette. The skirt has a trumpet skirt, complete with a horsehair hem for added detail. The back of this look is open, with crisscrossing straps on the shoulders. Nicole Bakti really nailed this fit, we could not love it more!