Runway Fashion Trends for Summer 2022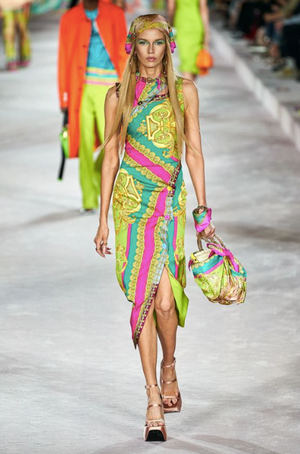 Summer time is almost here and we could not be more excited! With a new, warmer season comes new trends and must-haves for fabulous summer outfits. Tons of runway shows have been going on this spring to showcase the world's biggest designers and their collections for summer 2022. These collections from designers like Versace, Moshino, Dolce and Gabbana, Paul and Joe, etc have had one major common trend - COLOR! We have seen past seasons of neutrals, but this year is bringing the bold colors back and they are better than ever! Runway shows are the perfect place to turn to stay up to date on trends and get outfit inspo! 
The Moshino show was bright, fun and so very unique! There were tons of styles that feature a neon or pastel color palette and lots of interesting animal-inspired embellishments as well. This pastel plaid number has the cutest color combination, with pink, yellow, green and blue making for a fabulous summer look. We love looking at ensembles from runway shows to see how those trends are carrying over into the formal wear world, while also getting some outfit inspo for ourselves!! 
Versace's ready to wear spring 2022 fashion show was next level. The collection featured TONS of bright colors and patterns. The pattern of the dress pictured was featured several times throughout in various garments. It features teal, gold, green and hot pink all in a captivating pattern. Lime green, hot pink and teal make regular appearances throughout the collection and we are here for it!! 
Another trend we noticed in recent runway shows was mixing bright hues. This snap from the Paul and Joe runway show displays several trends all rolled into one look. For starters, the purple and yellow combination and floral pattern. The fit also shows off some summer 2022 trends. Puff sleeves are all the rage and will be everywhere! The bodice of this dress is also a button up, and has a structured collar which is another trend to be on the lookout for as summer fashion makes its way to retailers.