Sleek and Sparkly by Portia and Scarlett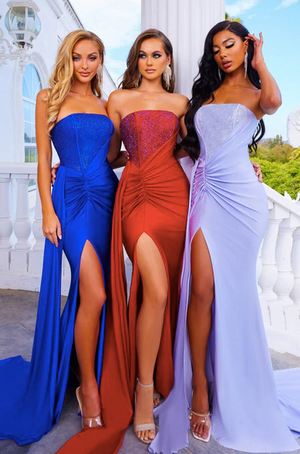 Portia and Scarlett's 2022 collection is jam packed full of the most glamorous styles for the season. Their ball gowns are next level, their embellishments are top notch and their designs are just as unique as they are absolutely stunning. Every time we look through this collection, we find more and more styles that we are obsessed with!! 
This first style by Portia and Scarlett totally has us swooning. It has so many stunning elements that make it perfect for formal events, especially proms! It is PS22158. This gown features a scoop neckline, fully rhinestone bodice and criss crossing satin details that make for a gorgeous skirt. While the style itself is stunning, the color options for this look make it even more fabulous! 
Next is style PS22157 from Portia and Scarlett. This look is similar to the first, but has a more sleek fit to it. It also mixes the textures of rhinestones on the bodice with a sleek material skirt. It features a strapless bodice with a straight neckline, and lots of ruching details across the rhinestones. A high slit and dramatic draping side panel add so much flare to this gown! It is such a beautiful number! 
Keeping with the same trend, let's take a look at Portia and Scarlett's style PS22230. The fit of this one has a sweetheart, strapless neckline with a super structured, rhinestone bodice. The skirt is a satin, jersey like material that really accentuates your curves. The front is also adorned with draping details to add a super unique element.